At the end of September it was finally time for telecom giant Tre to move into its newly constructed offices in the Globen district. Despite being a neighbour to the vast Ericsson Globe and Tele2 Arenas, the new 3huset, a 14-storey tower block, has added another landmark to the area.
Early Monday morning. Inside the lobby of Tre's new offices you're greeted by loud music and people lined up, greeting colleagues and welcoming visitors to a new working week with much applause.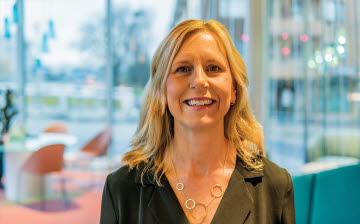 "We have a very strong corporate culture. Our Labs innovation week starts today, and we came up with the applause welcome as a fun way of launching it. And it's very 'Tre'," explains Helena Körberg, who met us at reception before we descend the tiered seating/stairs and pass the stage in the spacious atrium, which you could call the heart of the building.
For the past three years, Helena has project managed the construction of, and relocation to the new 3huset; a project that also strongly reflects Tre's corporate culture.
"Lots of companies view a relocation as an opportunity to change their corporate culture. For us it presented more of a concern: 'What if we lose our corporate culture?' It's something we discussed a lot with Fabege. The opportunity to adapt the building to our own culture played a big part in our decision to construct a new building."